Accurate Hemp Analysis
Test your hemp and soil with confidence
Download the Rock River Laboratory hemp analysis information sheet here.
Download an example hemp potency analysis report here.
Accurate, regular laboratory analyses are key to raising an ideal hemp crop. As a high management and valuable plant, investing in a means to ensure benchmarks are met can be the difference between a prosperous growing season and a lost product.
Regular in-season tissue testing of the cannabinoid profile helps growers prepare for harvest:
Delta 9-THC production tracking in hemp helps plan the growing timeline and guard against surprises at harvest
CBD production analysis throughout the growing season assists in forecasting and future crop decisions
After nearly a half century in the agricultural analysis industry, Rock River Laboratory understands the
importance of a solid soil analysis foundation for a healthy crop, and accurate plant analysis to prepare for
an optimal harvest. Working hand-in-hand with Pride Analytics and Consulting, a third-party hemp laboratory,
Rock River Laboratory ties together agronomy and potency with credibility for grower confidence:
Certified by the Wis. Dept. of Agriculture, Trade and Consumer Protection (DATCP) for soil analysis
Participating in the University of Kentucky's hemp proficiency program
Offering an app (Plant Tissue Plus) to submit plant tissue samples for plant tissue, plant tissue plus, moisture, or a cannabinoid profile analysis
Supplying interpretations that are backed by university research
Integration capabilities with any GIS platform
Rock River Laboratory chose to partner with Pride Analytics and Consulting, as their own resume meets our
high standards of analysis, including:
A leadership team with over five years of experience in potency analysis at a Colorado laboratory
A combined 30 years of laboratory analysis expertise across the technical team
A strong relationship with PerkinElmer, the industry leader in scientific instrumentation – including that for hemp analysis
---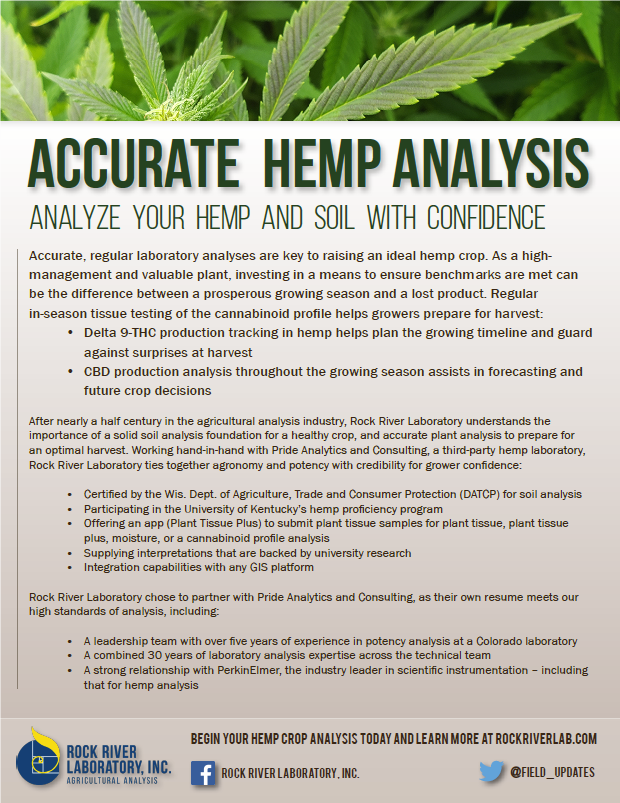 Rock River Laboratory Hemp Analysis Information Sheet