Data Distillations
Data Distillations is published monthly and utilizes Rock River Laboratory's vast database of feedstuff information from across the United States, along with our expert team, to share important insights.
In an effort to help the agriculture industry stay in front of challenges and opportunities with available feedstuffs, relevant graphs will be shared, along with what our team members are gleaning based on those graphs. Prepare for and remedy the ups and downs of feedstuffs components you utilize in your rations with the help of another set of eyes. Sign up to receive alerts when new Data Distillations are available each month by completing the thirty-second form at the bottom of this page.

We've spent over 40 years equipping the agriculture industry with the tools and answers needed to make decisions for successful outcomes. Our team is happy to help provide additional insights to our accurate analysis of your customer's feedstuffs. Give us a call or send us an e-mail today to learn more.
February 11th, 2019 Insights
Author: Mark Kirk
Watching the starch load.
As we hit the middle of February, fermentation of corn silage has all but completely stabilized. This is the time when starch digestibility is the highest. At this point, it might be time to adjust the amount or percentage of starch in the ration as cows are capturing more energy from the starch in well-fermented con silage.
Figure 1: Whole plant corn silage insituStarchD7hr as a % if starch for East (red), Midwest (green) and Western (blue) US region.

It is easy to see that generally by this time of the year starch digestibility has leveled off. If you notice a drop in butter fat with no other changes to the ration make sure you consider this as a possible culprit.
Figure 2: Whole plant corn silage starch content as a % dry matter.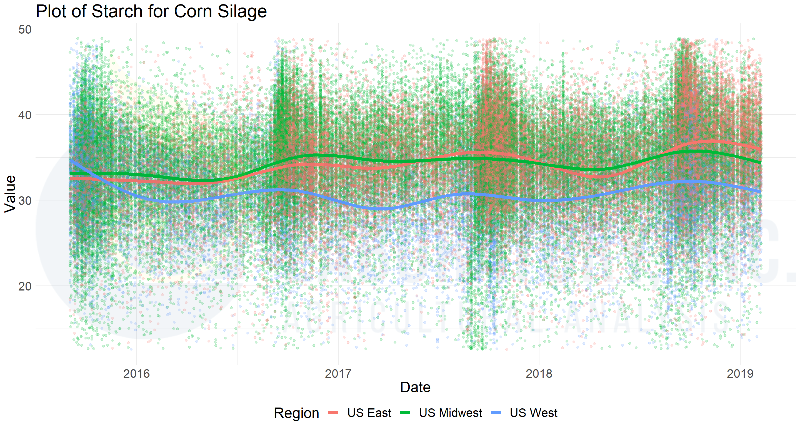 Adding to this the amount of starch in corn silage is also up this year a few percentage points especially in the East and Midwest. This is a function of getting crops off a little later this year and consequently a little drier.
Figure 3: Whole plant corn silage Dry Matter

As the corn plant matures the amount of starch increase, as ensiling time increases so does starch digestibility. With higher than typical percentages of starch and starch digestibility at its peak starch load is an important consideration.
---
January 17th, 2019 Insights
Author: John Goeser, PhD, PAS, Diplomate ACAN
Winter crop quality - a sleeping giant out there?
The 2018 crop has settled in and corn silage starch levels are up over the 2017 crop, for Eastern and Midwestern growers (Figure 1). Theoretically, energy value per ton should be up as well with more grain and less stover, however, silage dry matter (Figure 2) has trended up so it's looking like a much more mature silage for many dairies east of the Mississippi.
Figure 1: Whole plant corn silage starch content (% of dry matter) for East (red), Midwest (green) and Western (blue) US regions since January 2017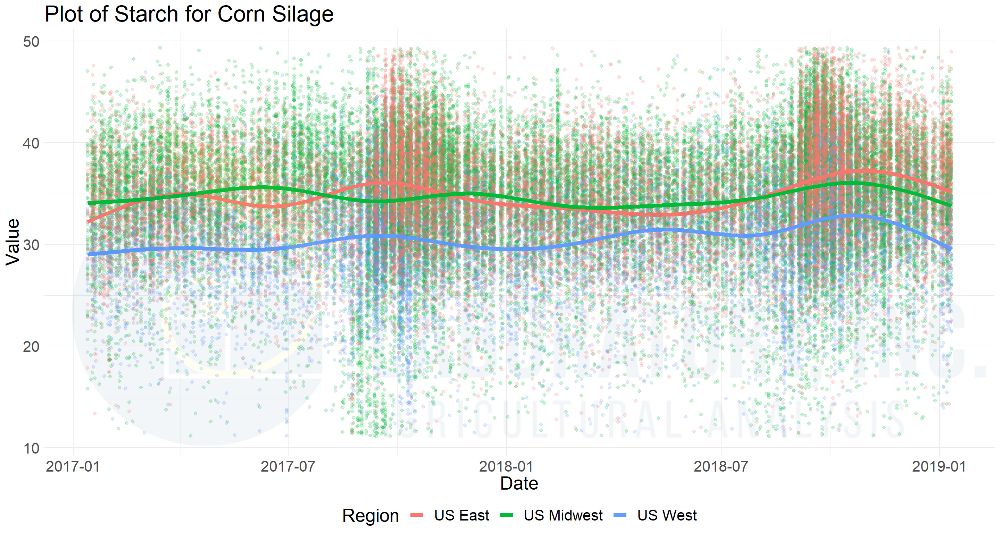 Figure 2: Whole plant corn silage dry matter content (%) for East (red), Midwest (green) and Western (blue) US regions since January 2017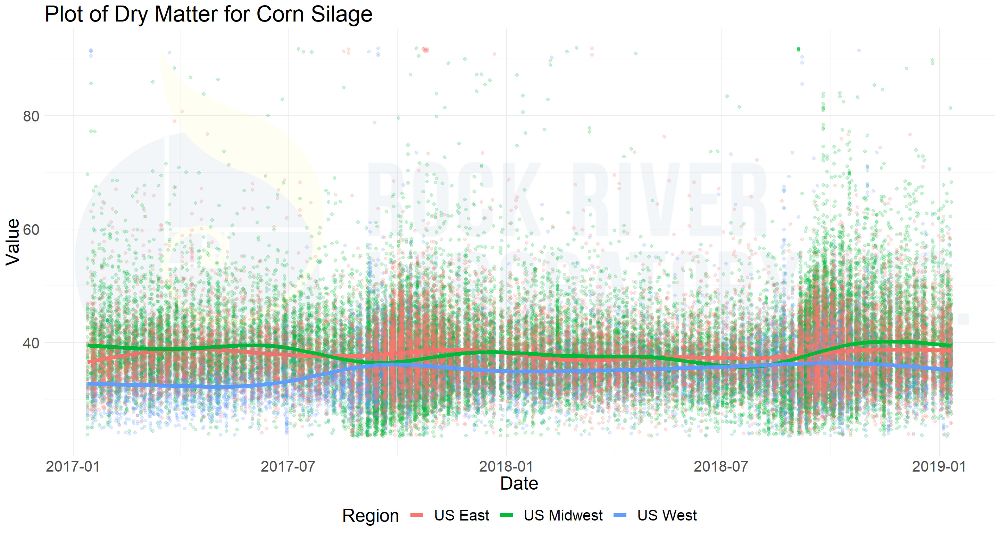 Compounding the challenges a mature silage brings to the farm, in many regions, ear and stalk rots set in. Many have recognized the potential for mycotoxin contamination exists, however, my number one awareness point for dairies and feedlots still comes back to the crop dry matter.
With a drier crop, along with an increasing fungal load in feeds year-in-year-out (data not shown), Rock River Laboratory has recognized greater yeast loads in later 2018 (Figure 3). This plot represents a potential sleeping microbial giant out there.
Figure 3: Whole plant corn silage yeast content for all US regions the past two years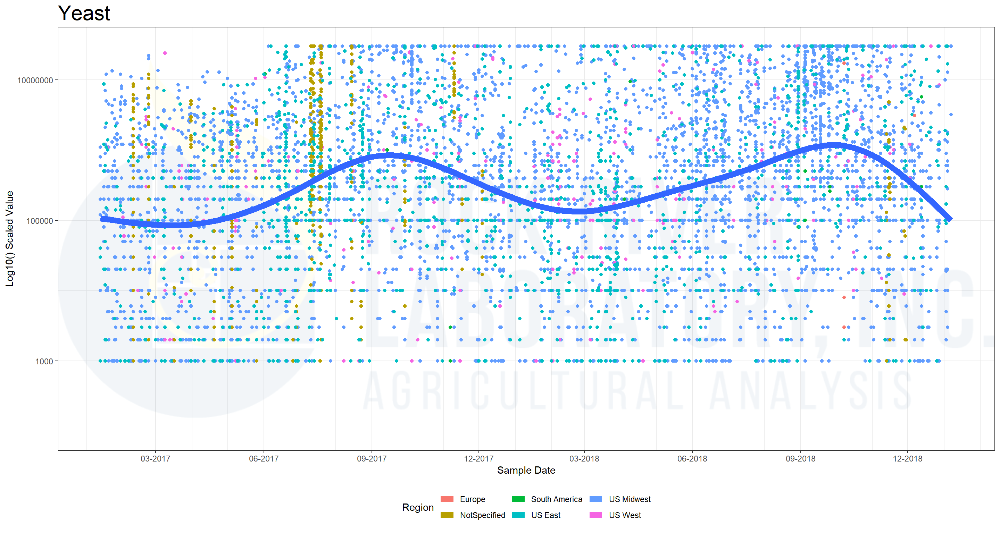 While yeast growth and feed deterioration may have dropped back during colder (winter) weather, these microbes are likely present in substantial concentrations on many farms. This is a strong point to be aware of as we trend soon toward warmer weather.