Data Distillations
Data Distillations is published quarterly and utilizes Rock River Laboratory's vast database of feedstuff information from across the United States, along with our expert team, to share important insights.
In an effort to help the agriculture industry stay in front of challenges and opportunities with available feedstuffs, relevant graphs will be shared, along with what our team members are gleaning based on those graphs. Prepare for and remedy the ups and downs of feedstuffs components you utilize in your rations with the help of another set of eyes. Sign up to receive alerts when new Data Distillations are available each quarter by completing the thirty-second form at the bottom of this page or click the link here.

We've spent over 40 years equipping the agriculture industry with the tools and answers needed to make decisions for successful outcomes. Our team is happy to help provide additional insights to our accurate analysis of your customer's feedstuffs. Give us a call or send us an e-mail today to learn more.
---
May 12th, 2020 Insights
Author: John Goeser, PhD, PAS
Find hidden commodity value when challenged with limited forage inventories
Dairy cow diet changes arise with the seasons in cases where Mother Nature has not been kind, and forage inventories are in low supply. There are two nutrition approaches to filling the gaps in diets when forage supply is limited: 1) change the corn silage to hay or haylage ratio, or 2) cut forage back and feed a highly digestible, fibrous byproduct feed.
Increasing the corn silage in the diet to maintain the forage feeding rate can work. However, this approach inevitably leads to cutting back on corn silage in the future, and thus another diet change. It also needs to be taken into account that corn silage brings highly digestible starch into the diet, and more corn silage will increase rumen fermentable starch load.
The second path - cutting back on forage and maintaining normal corn silage inventory - can contribute to more stability and consistency over the long haul. In this situation, forage and starch levels can be cut back, and highly digestible commodity feeds can be brought in to extend forage inventories. Soy hulls, corn gluten feed, wheat midds, corn distillers grains, and almond hulls (in the western US) are all viable alternative options, among several others, to balance diets and provide consistency. Just be sure to have an idea of the feed's nutritional value and don't assume a feed library ingredient measure is robust enough.
Professor Norm St-Pierre and Professor Bill Weiss have shown that aNDF in commodity feeds can vary as much as forages. This unrecognized variation could introduce inconsistency into the diet, however, if recognized and captured, then hidden nutritional value beyond what the broker may have listed on a spec sheet can be found.
Currently, feed analysis (by NIR) is applicable to commodity feeds in similar ways to forages and grains. Start with the table below to get an idea of what several commodities can provide in nutritional value when replacing forages. Then, dial in the diet by checking commodities for protein, fiber, and starch content, and find hidden value by recognizing the fiber digestibility potential. Update rations accordingly when exceptional fiber digestibility is uncovered and cut back on energy in the diet elsewhere.
Table 1: Rock River Laboratory, Inc. database statistics for commodity feed nutritional value
| | | | | |
| --- | --- | --- | --- | --- |
| Feed | Parameter | 15th Percentile | Median | 85th Percentile |
| Almond Hulls | aNDF | 23.6 | 30.3 | 52.1 |
| Almond Hulls | CP | 4.7 | 6.2 | 8.5 |
| Almond Hulls | NDFD30 | N/A | N/A | N/A |
| Corn Gluten Feed | aNDF | 28.5 | 32.3 | 35.2 |
| Corn Gluten Feed | CP | 19.6 | 22.4 | 25.5 |
| Corn Gluten Feed | NDFD30 | 20.8 | 46.6 | 59.0 |
| Corn Gluten Feed | Starch | 10.6 | 14.8 | 19.0 |
| Dry Distillers Grains | aNDF | 30.0 | 34.5 | 38.6 |
| Dry Distillers Grains | CP | 23.8 | 30.1 | 37.0 |
| Dry Distillers Grains | NDFD30 | 5.5 | 33.3 | 50.9 |
| Dry Distillers Grains | Starch | 0.5 | 3.7 | 11.5 |
| Soy Hulls | aNDF | 56.0 | 59.1 | 63.3 |
| Soy Hulls | CP | 10.7 | 11.8 | 13.5 |
| Soy Hulls | NDFD30 | 61.8 | 70.1 | 73.1 |
| Soy Hulls | Starch | 0.3 | 1.3 | 3.3 |
| Wet Distillers Grains | aNDF | 29.4 | 34.3 | 38.1 |
| Wet Distillers Grains | CP | 21.9 | 23.9 | 33.0 |
| Wet Distillers Grains | NDFD30 | 5.5 | 24.4 | 36.3 |
| Wet Distillers Grains | Starch | 1.0 | 7.5 | 11.7 |
| Wheat Midds | aNDF | 26.7 | 30.8 | 36.3 |
| Wheat Midds | CP | 17.3 | 18.6 | 19.7 |
| Wheat Midds | NDFD30 | 11.5 | 20.4 | 31.6 |
| Wheat Midds | Starch | 21.0 | 26.9 | 33.0 |
---
January 16th, 2020 Insights
Author: John Goeser, PhD, PAS
Corn grain is anything but normal this year
Numerous interactions with dairy and nutritionist clients over the past month have centered on 2019-grown feed challenges. The discussion points have ranged from forage quality, to feed hygiene, to now corn grain quality. Fecal starch (for dairy, beef, or calves) is one of the first tools to bring out when looking for performance opportunities. Fecal starch content (% Dry Matter) directly ties to Total Tract Starch Digestibility (TTSD), and TTSD ties directly to performance. For example, a one-unit gain in TTSD equates to a pound of milk per cow or more. Figure 1 highlights fecal starch results for dairy cattle samples analyzed by Rock River Laboratory, Inc. since 2016. The new goal is less than one percent for dairy, yet the current lab average appears to be around five percent DM. There are abundant opportunities tied to starch digestion, and corn grain quality may be a contributing factor. Lighter test weight and anti-nutritional factors may be contributing factors.
Figure 1:

Test weight (pounds per bushel) is normally around 52 to 60 (R. Nielson, 2018). However many growers are recognizing test weights in the 40's. Test weight can be driven down by increased moisture or nutritional changes that would contribute to less-dense corn. Corn grain protein is one factor that contributes to density. The green (Midwestern US) and red (Eastern US) trend lines in Figure 3 highlight the substantial decreasing trend for grain protein for many with 2019 crop. This was likely caused by both growing season challenges and nitrogen being driven out of the root zone by excessive rainfall. Then, with less protein concentration, the starch content has trended up (Figure 2: green trend line) due to less protein diluting out the starch. In feeding terms, less protein and more starch should equate to better quality corn, however many aren't recognizing this potential.
Figure 2:

Figure 3:

If you suspect there may be opportunities with corn grain, first check the nutritional profile and moisture content. Recognize the variation that may be present in your region. Then, after balancing for nutrition value, if performance isn't up to expectations, consider checking anti-nutritional factors such as mold and yeast levels or mycotoxin load. Double-check particle size as well, as this past year's crop may be grinding differently due to grain quality. Finer ground corn can correspond to increased energy and performance.
References:
Nielsen, R. 2018. Corn Grain Test Weight. Corny News Network article accessed online, https://www.agry.purdue.edu/ext/corn/news/timeless/TestWeight.html
---
December 26th, 2019 Insights
Author: Cliff Ocker
Feedstuff Variability = Opportunity
Animals prefer consistency and tend to perform better when their environment is dependable, especially their diet. The diet ingredients however, have the opportunity to be very inconsistent - whether it's a year-over-year difference in forages, based on growing conditions (as noted in Figures 1 and 2), or unpredictable forages within a single year due to weather, soil types, hybrids, etc. Not to mention the byproduct/commodity variation based on the same influences.
Figures 1 and 2: Forage differences by crop year; Year-over-year forage variability for haylage and corn silage in one region of the US. Monitoring variability is key, and is where opportunity for improved production and profitability lies. Rock River Laboratory is here to help monitor this variation via our mobile app, FeedScan. FeedScan will visually provide a trend line for the nutrients within your feedstuffs making it easy to see when a nutrient is significantly different than the previous samples pulled. Note that variability of crude protein alone in haylage samples shown in Figure 3. The ability to quickly respond to these changes allows us to keep a more consistent diet in front of the animals for maximum production.
Figure 3: Tracking forage variation via FeedScan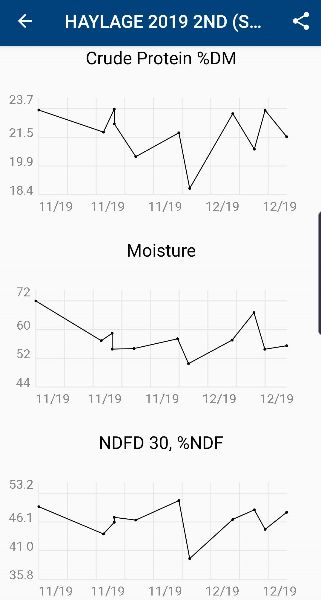 There are plenty of factors influencing what nutrients the animal utilizes through digestion. Figure 4 demonstrates the variation around fiber and starch digestion within a ruminant. Keeping a consistent diet in front of the herd can go a long way in maximizing your return.
Figure 4: Rumen and total tract fiber and starch variation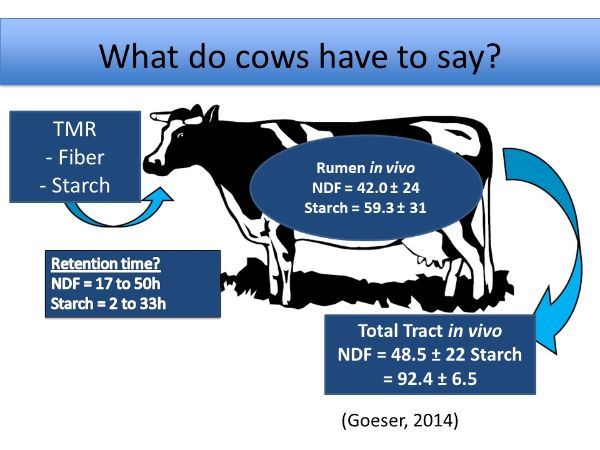 ---
November 13th, 2019 Insights
Author: Mark Kirk
Fiber Digestibility in 2019 Corn Silage
Corn silage fiber digestibility is always a popular topic this time of year. It is generally about now that we begin to feed the current year's crop. There has been much speculation as to what this year's corn silage crop will look and feed like. The good news is, even with the delayed planting and some adverse growing conditions, this year's corn silage fiber digestibility isn't all that bad.
Compared to the historical plot in Figure 1, 2019's Neutral Detergent Fiber Digestibility 30 hour (NDFD30) is holding its own. We see a small dip in western US-grown fiber digestibility compared to 2018, but overall there does not appear to be anything to be alarmed about.
Figure 1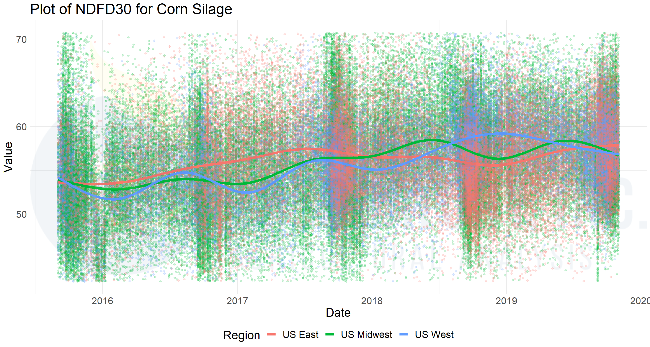 As we look at the Total Tract NDFD (TTNDFD) trend over the last four growing seasons (Figure 2), we see a recovery from last year's subpar values in the eastern US. Notice also the same drop off in the samples from the western US. Again, not the end of the world and dare we say, 'normal' values as compared over several years?
Figure 2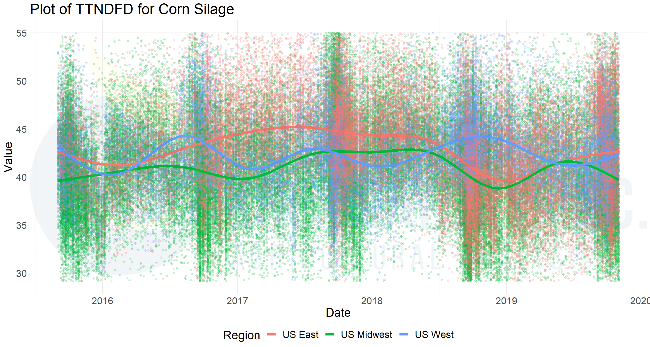 UNDF 240 in this year's corn silage is slightly reduced in all regions, as compared to 2018 (Figure 3). It is not as low 2016 and 2017, but with the average under ten percent, there is a good improvement over last year.
Figure 3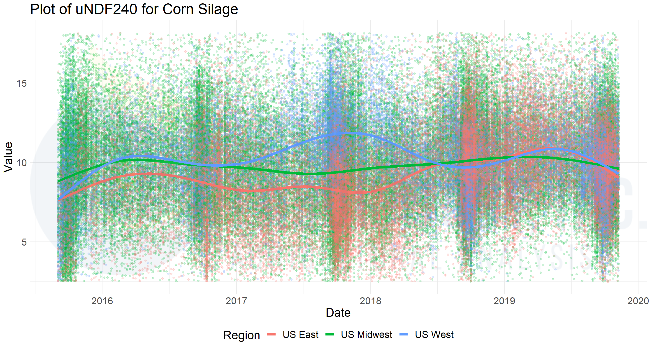 ---