Laboratory and Brand Management Experts
Expertise to serve your needs
Don Meyer
President and Owner
Don Meyer graduated from the University of Wisconsin, Milwaukee with a Bachelor of Science degree in geography in 1975. Shortly after, he attended graduate school at the University of Wisconsin, Madison and the University of Wisconsin, Milwaukee. Don's passion for science and analysis combined with a little support from a local agriculture retailer, helped him build Rock River Laboratory agriculture analysis, which opened in 1976 and is running strong in the fields of agronomy, feedstuff, manure and water analysis yet today. Don's progressive thinking made him an early adopter of near infrared (NIR) technology as an analysis tool, and his work with this technology has forged new frontiers in the use of NIR technology in the lab and on-farm. Read More One of the original founders of the National Alfalfa Hay Testing Association (now known as the National Forage Testing Association), Don served as the Chairman of the organization twice. Don also served on the Board of Directors for the NIR consortium and was the only private industry member of the USDA-NIR Forage Network. Striving for industry progress by improving analysis accuracy and incorporating new technologies and tools, Don has remained dedicated to helping agronomists, nutritionists, producers, and growers achieve success through improved outputs.
---
Don can be reached at: don_meyer@rockriverlab.com
---
Zachery Meyer
Vice President
Raised in Ixonia, Wis., Zachery Meyer grew up immersed in his family's business, Rock River Laboratory. Meyer spent many hours helping in various jobs around the laboratory, seeing first-hand the dedication and commitment his father and the late Twilah Kulow had to the business and their customers. Meyer gathered business experience at two prominent, Fortune 500 companies while working toward his degree from the University of Wisconsin-Milwaukee. In 2007, Meyer resumed his involvement in Rock River Laboratory, starting as a soil sampler, moving to outside sales and eventually taking on his current role of director of operations. READ MORE Meyer still gathers inspiration from the Rock River Laboratory employees and mentors who cultivated his drive for customer satisfaction and service, while continuing to learn and deepen his understanding of animal nutrition and agronomy. When he isn't building relationships with customers or overseeing laboratory operations, Zac spends his time playing or watching sports and sharing in family time with his wife and two young daughters.
---
Zachery can be reached at: zachery_meyer@rockriverlab.com
---
Dustin Sawyer
Laboratory Director
Born and raised in Wisconsin, Dustin Sawyer gained a love of the outdoors, mechanics and engineering throughout his years growing up near the town of Wisconsin Rapids. In 2004, Sawyer earned his Bachelor of Science degree in Soil Science and Chemistry from the University of Wisconsin- Steven's Point. That same year, he put his vast conservation knowledge and experience toward an internship for the Wood County Land Conservation Department, where he worked with growers on implementing preservation practices throughout their operations. Guided by a desire for continued learning and passion for science, Sawyer has earned his Master's Degree in Soil Science through the University of Wisconsin – Madison. He continues his over 13-year tenure at Rock River Laboratory headquarters as the Laboratory Director, guiding the direction of lab analysis practices, processes, quality assurance and quality control with a detailed eye. Read More He maintains involvement in key industry groups through his memberships in the Soil Science Society of America, the American Society of Agronomy, the Crop Science Society of America, and is a board member on the Soil and Plant Analysis Council, the National Forage Testing Association, and the Illinois Soil Testing Association. Sawyer still finds time outside the lab to enjoy the outdoors that brought him to where he is today through kayaking, fishing and exploring.
---
Dustin can be reached at: dustin_sawyer@rockriverlab.com
---
Lauren Ebert
Quality Control and Product Development Director
Hailing from Ixonia, Wis., Lauren Ebert grew up in the midst of her family's business, Rock River Laboratory. After spending many childhood hours at the lab helping with everything from folding filter papers to stickering soil analysis bags, Ebert came back to the laboratory every summer between her college years to assist in the Rock River Laboratory soils department. In 2007 she earned her bachelor's degree in Psychology from the University of Wisconsin-Milwaukee and decided to follow her passion back to the family business. She joined the Rock River Laboratory team full time in first the agronomy department, then in the nutrition department, all while finding great appreciation for the opportunity to work alongside her father, Don, and brother, Zachery, with the common goal to make Rock River Laboratory one of the best in the industry. Read More Since then, Ebert has taken on the role of forage lab supervisor, and eventually quality control and product development director, where she works to review and deliver laboratory results, support suppliers, maintain quality control programs, and assist in developing both calibrations and new products.
---
Lauren can be reached at: lauren_meyer@rockriverlab.com
---
Eva Lynch
Scientific Applications Director
Born and raised in Watertown, Wisconsin, Eva Lynch grew up in the midst of a prime agriculture pocket, and spent most of her youth involved in the 4-H Horse and Pony Project. Her passion for science and technology drew her to earning an Associate's degree in Biotechnology from Madison Area Technical College-Truax in 1998. After college, Lynch utilized her skill base in various roles during her career build – including quality control lab technician testing milk replacer ingredients and final products, organics laboratory technician analyzing water and soil for contaminants, and as a GCMS specialist, assisting the company in earning ISO accreditation for phthalates analysis in plastics. Lynch joined Rock River Laboratory in 2014, and her vast experience in High Performance Liquid Chromatography (HPLC), Gas Chromatography (GC), and Mass Spectrometry (GC-MS) technology has helped Rock River Laboratory continue to lead the industry in use of the latest technology. Read More Lynch is also an inspired member of the Association for Women in Science (AWIS), which encourages leadership, research and ideas to advance women in STEM careers. When she isn't knee high in science, Lynch can be found horseback riding, gardening and spending time with her children.
---
Eva can be reached at: eva_lynch@rockriverlab.com
---
Devin Sawyer
Human Resource Administrator & Nutrient Management Assistant
Growing up in the Central Sands of Wisconsin, Devin Sawyer attended school in the district of Wisconsin Rapids, Wis. After earning her degree in Business Administration as an Administrative Professional, Sawyer grew her passion for science and agriculture working in the Rock River Laboratory agronomy laboratory, where she had the opportunity to see behind the scenes of the operation. She fostered this new found agriculture interest as she grew into her current role, which includes reviewing and assembling over 300 Nutrient Management Plans (NMPs) per year. Her knowledge gained from a comprehensive look at the industry from small to large farms offers the whole Rock River Laboratory team outside insight. Read More When Devin isn't managing the Rock River Laboratory Watertown headquarters office or reviewing NMPs, she can be found outdoors – enjoying camping and kayaking, gardening and capturing fantastic outdoor scenes on camera.
---
Devin can be reached at: devin_sawyer@rockriverlab.com
---
Buffy Uglow
Marketing and Communications Director
Raised on a small farm near Melrose, Wis., Buffy Uglow developed a passion for agriculture at a young age while helping her family raise Belgian Draft Horses and later working with her sister and brother-in-law's cow-calf operation. This passion drove her to focus on Animal Science and Life Sciences Communication at the University of Wisconsin-Madison, and she nurtured her agriculture experience through internships with the University of Wisconsin Equine Extension and an agriculture marketing firm. After earning a Bachelor of Science degree in 2008, Uglow took on marketing executive role for an agriculture marketing agency, spending time writing, developing producer and grower-directed materials, leading advertising campaigns and planning marketing strategies for various feed, reproduction, and pharmaceutical companies. Uglow joined Rock River Laboratory in 2014 and has utilized her past experience to expand media and public relations and facilitate the Read More growing marketing and customer relationship needs of the team. She is actively involved on the Wisconsin State Fair Dairy Promotion Board and when Uglow isn't writing or designing, she spends her time with her daughter, husband and dog, helping on her in-laws dairy farm, and capturing agriculture through the lens of her camera.
---
Buffy can be reached at: buffy_uglow@rockriverlab.com
---
Chad Henke
Controller
Growing up in Ashwaubenon, Wis., Chad Henke spent his younger years enjoying frequent visits to his grandparent's cash crop farm and aunt and uncle's small dairy farm. He went on to pursue his interest in business, earning a Bachelor of Business Administration degree in 2001 from the University of Wisconsin-Milwaukee, in the areas of Real Estate Development and Finance, with a minor in Urban Planning. After college, Henke put his degree to work as a financial analyst conducting accounting and financial analysis for a mid-sized medical real estate development company. In 2013, Henke joined the Rock River Laboratory, assuming the role of controller and taking on both accounting and logistics needs of the business. Read More In his free time, Henke can be found enjoying time with his family, as well as waterskiing, boating and ice skating.
---
Chad can be reached at: chad_henke@rockriverlab.com
---
Jacob Karlen
NIR (Near Infrared) Manager
Growing up on a farm near Monticello, Wis., Jacob Karlen developed a love for agriculture while helping his family run their 80-cow dairy, and through his involvement in his high school FFA chapter, including serving on the officer team and attaining his American Degree. This passion grew into an appreciation for the biological sciences, and lead Karlen to pursue a Bachelor of Science degree in Biochemistry from the University of Wisconsin-Madison, in 2008. Karlen further developed his scientific research skill set while contributing to sample processing and scanning at the USDA-ARS-Dairy Forage Research Center (DFRC) while on campus earning his first degree. After taking a hiatus from the DFRC to pursue a feed company Quality Assurance-focused internship, Karlen returned to expand his involvement with NIR operations, developing his interest in this technology, and shuttling him into a role with the NIRS Forage and Feed Testing Consortium (NIRSC). This experience grew his capabilities and desire to pursue data handling and statistics. Prior to joining Rock River Laboratory in 2015, Karlen served as a laboratory technician and data manager for the NIRSC. In his current role as NIR manager for Rock River Laboratory, Karlen works to track, manage, and maintain Rock River Laboratory's extensive network of NIR instruments Read More – both domestic and abroad. He is also continuing his education, pursuing a Master of Science degree in Biological Systems Engineering, with a project focusing on portable NIR instrumentation.
---
Jacob can be reached at: jacob_karlen@rockriverlab.com
---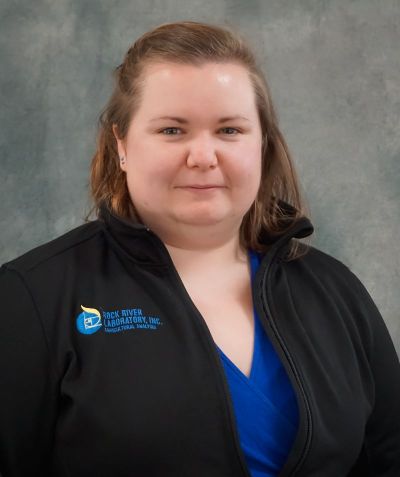 Liz Coons
Research and Development Coordinator
Hailing from Waterford, Vermont, Liz Coons found her passion for agriculture early while growing up on her parents' dairy farm and later helping on her father's beef operation. This inspiration led her to the University of Vermont where she was a member of the Dairy Club, participated in the student dairy cooperative, CREAM, and competed in the Dairy Challenge. In 2014 Coons earned a Bachelor of Science degree in Animal Science and entered into a year-long internship at the Miner Institute in Chazy, New York. Coons moved to Wisconsin to pursue graduate school at the University of Wisconsin - Madison, where she earned her Master's Degree in Ruminant Nutrition in 2017. That same year, she joined Rock River Laboratory. She currently serves as the Research and Development Coordinator there, designing methodology and overseeing contract research and development. Read More When she isn't donning a lab coat, Coons can be found outside hiking, kayaking, frequenting the dog park, and camping with her husband and dogs. She is also a regular canine volunteer at the Dane County Humane Society. Thanks to her full Wisconsin emersion, she has been converted to a beer connoisseur and enjoys trying new craft beers from small breweries in and around the state!
---
Liz can be reached at: liz_coons@rockriverlab.com
---
Andrea Adkins
Wet Chemistry Supervisor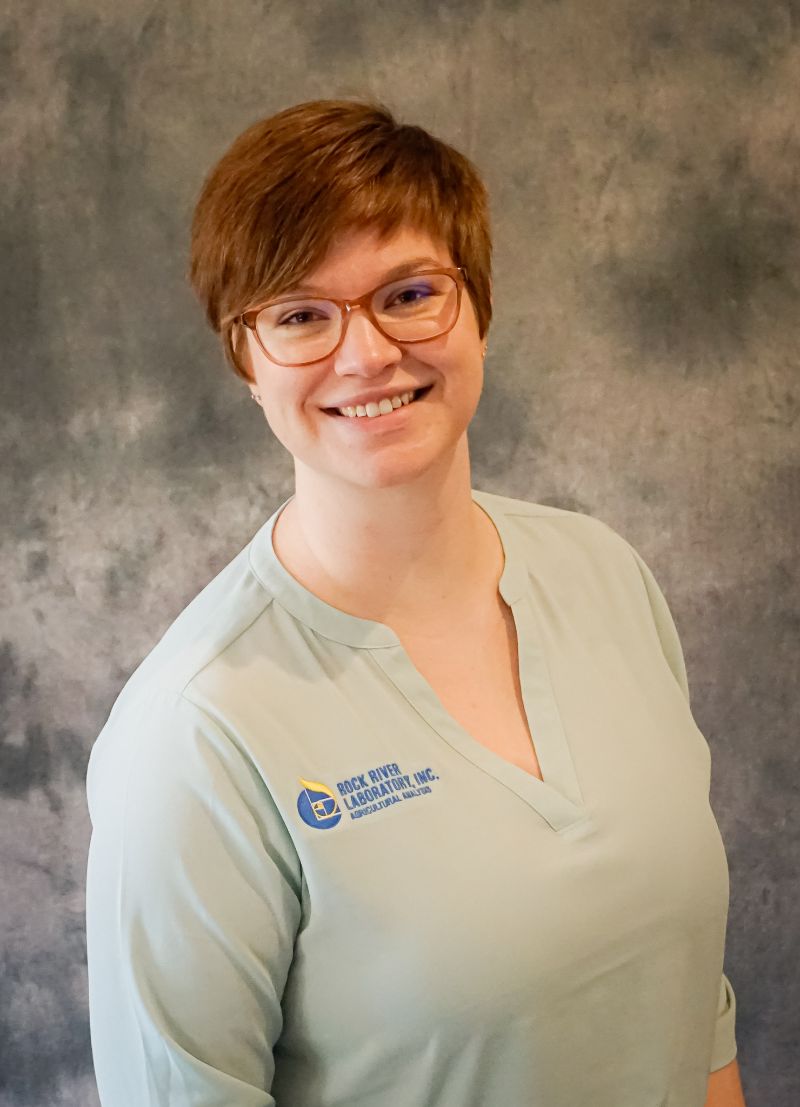 Growing up in Sun Prairie, Wis., Andrea Adkins developed a love for animal agriculture at a young age. While still in middle school, she took on a farmhand role at a local dairy - milking cows, feeding calves, and handling general maintenance. Assisting with everything from routine procedures to caring for post-op animals and running the boarding facility, Adkins's role at a veterinary clinic in high school helped further solidify her passion. These experiences helped fuel her toward earning her Bachelor of Science degree in Animal Science from the University of Wisconsin - Platteville in 2016. She combined her animal expertise with data gathering and refinement skills for sensitive studies at a research laboratory after graduation, then joined Rock River Laboratory in 2017. Adkins currently serves as the forage laboratory supervisor, overseeing all nutrition analyses while also securing a safe lab environment Read More with her additional role as safety officer. Outside of the lab, she enjoys traveling and spending time with her husband and dogs. And thanks to a semester spent abroad in the Netherlands, Adkins can likely beat you in 'worldwide farming practices' trivia!
---
Andrea can be reached at: andrea_adkins@rockriverlab.com
---

Oliver Sawyer
Lead Software Engineer
Raised in Rudolph, Wis., but calling Wisconsin Rapids home, Oliver Sawyer was fascinated with computers and robotics at a young age. He quenched his deep interest and growing skillset by working as an Apprentice Webmaster for the Wisconsin Rapids Public School District and seeking certifications in A+ PC maintenance and repair, and networking infrastructure, while still in high school. Sawyer went on to pursue a degree in Computer Engineering at Milwaukee School of Engineering (MSOE), where he will graduate in 2023. While still earning his degree, he worked on cloud infrastructure for smart thermostats and building automation systems firmware as a software engineer intern with Johnson Controls.
Sawyer handles all aspects of programming as well as database and network management in his current role at Rock River Laboratory - keeping the organization at the forefront Read More of emerging technology. When he isn't developing new means to help handle and protect data efficiently, you can find Oliver playing board games, hiking, reading, or trying for a winning hand as a professional card player!
---
Oliver can be reached at: Oliver_sawyer@rockriverlab.com
---
Jeff DeGroot
Lab Manager, Rock River Laboratory - West
Hailing from Fresno, Calif., Jeff DeGroot spent much of his childhood helping on his family's 1600-cow dairy farm. These roots developed and secured his passion for a life and career in the dairy industry, which eventually carried him to a field technician role with the local Dairy Herd Improvement Association (DHIA). DeGroot joined Rock River Laboratory in 2009 as the manager of Rock River Laboratory-West in Visalia, Ca. In his role there, DeGroot overseas processing of samples submitted at that location while maintaining customer relationships. In his free time, DeGroot enjoys camping with his family, hunting, and riding UTV/ ATVs.
---
Jeff can be reached at: jeff_degroot@rockriverlab.com
---
John Rogers
Laboratory Manager, Rock River Laboratory-Ohio
Hailing from Wooster, Ohio, John Rogers has lived and worked on various dairy farms throughout his lifetime. In his current role as Rock River Laboratory Ohio's manager, he directs a team of lab technicians to ensure the safe transport and accurate Near Infrared (NIR) analysis of forages and feedstuffs from the midwest and eastern states. When he isn't working to fulfill his customer's needs, you can find him woodworking.
---
John can be reached at: john_rogers@rockriverlab.com
---
Danae Cummings
Lab Manager, Rock River Laboratory - Northeast
Growing up in Maine, NY, Danae Cummings spent much of her time on her uncle's dairy farm helping mow hay and feed cows, with a portion of her time devoted to petting the farm's kitten population. After earning associate's degrees in medical laboratory technology and individual studies, as well as a certificate in phlebotomy from State University of New York (SUNY) Broome in 2010, Cummings became a licensed Medical Laboratory Technician. She took on a lead lab technician role at a physician's office lab where she maintained all analyzers and upheld testing quality assurance. Cummings gained further laboratory experience at a local hospital serving as a microbiologist performing Polymerase chain reaction (PCR) testing, deoxyribonucleic acid (DNA) testing, antigen testing, and plating and examining microorganisms, before joining Rock River Laboratory as a laboratory technician in 2016. In her latest role of agronomic lab supervisor for Rock River Laboratory-Northeast, Cummings overseas all wet chemistry analysis at the lab and provides customer service. READ MORE When Cummings isn't in the lab, you can find her enjoying her hometown of Maine, while gardening, cooking and baking, reading, making her own beer and maple syrup, and spending time at her parents' cottage on Cayuga Lake.
---
Danae can be reached at: danae_cummings@rockriverlab.com
---
Geoff Wegner
Fleet manager and Convenience Route coordinator
Born and raised in Hustisford, Wis., Geoff Wegner helped out on numerous farms as a teenager, but has rounded out his career through roles such as auto mechanic, factory lead person, maintenance technician, fleet manager, and property preservation specialist, and even carries a real estate agent license. In his current role as Rock River Laboratory fleet manager and Convenience Route coordinator, he works with customers and route drivers to ensure samples are quickly and safely transported to the headquarters laboratory READ MORE for analysis. When he isn't working on equipment or coordinating team members, Wegner can be found snowmobiling in northern Wisconsin or tinkering on various mechanical items in his shop.
---
Geoff can be reached at: geoff_wegner@rockriverlab.com
---