Mill Quality Assurance Program
Offering Risk Abatement for Confident Mill Management
Working with feed mill managers and agriculture industry experts, Rock River Laboratory constructed the Mill QA Program to answer the industry need for risk abatement solutions and Food Safety and Modernization Act (FSMA) compliance assistance. The Mill Quality Assurance Program provides mill and manufacturing managers:
Peace of mind in consistently controlled and scheduled sampling for liability and risk reduction
Accurate analysis and logical reporting to help keep suppliers in check and control margins
Organizational scaffolding and records to demonstrate hazard assessment, Current Good Management Practices (CGMPs), preventive controls, and quality assurance compliance
Customer confidence in the supplier's commitment to the highest level of quality assurance
The Mill QA program accomplishes all of this through a system of tools that facilitate everything needed to manage sampling and create records:
The Ingredient Summary Report ensures delivery of exact formulations while importing directly into feed software
Mixure Accuracy Analysis tracks the mill mixer's correctness by comparing multiple samples
Automated Labels reduce human error, remove paperwork, and identify samples from start to finish
Compilation Reports identify weekly results, monthly averages and standard deviations, while highlighting results outside the compliance range
Enrolling in the Rock River Laboratory Mill QA Program can help your mill or manufacturing facility track and adhere to Best Manufacturing Practices. Avoid the headaches and worry with a program that manages your feed system accuracy so you don't have to.
Learn more by downloading the materials below, or request a free Mill QA information kit by e-mailing office@rockriverlab.com with your request, name, and mailing address.
---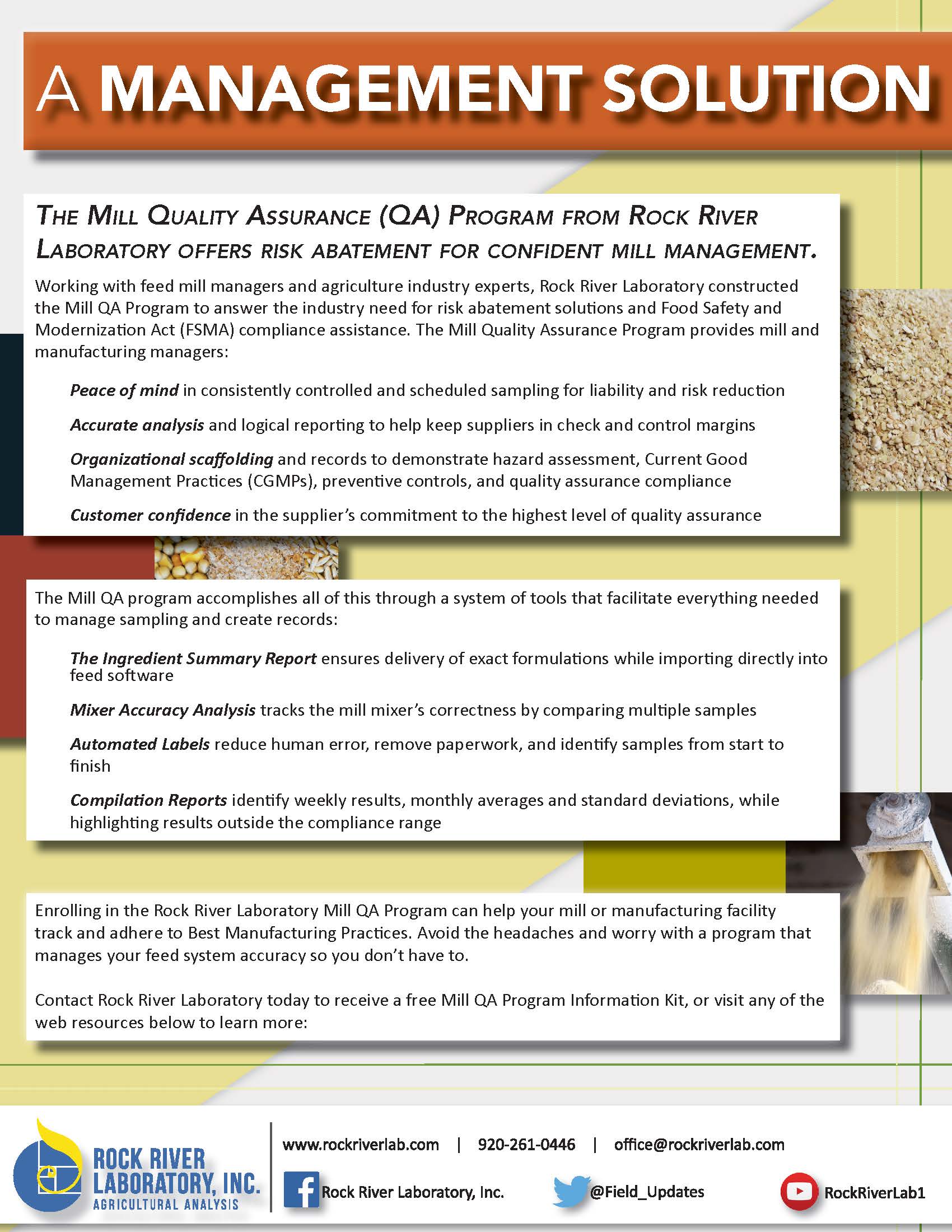 Mill Quality Assurance Program information sheet
---