Visualizer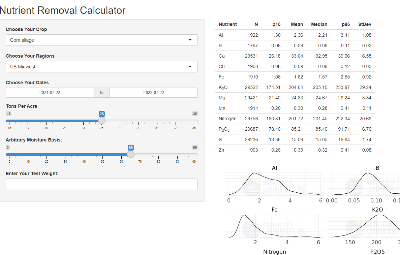 Don't just view your data, Visualize it
Data is only as powerful as the ability to organize, understand, and learn from it to empower decision-making. Harvest the most benefit of Rock River Laboratory's accumulated soil and plant data, as well as your own nutrition and manure analysis data with the help of Visualizer. This library of applications created by Rock River Laboratory offers simple dashboards and calculators that can be used to:
Estimate the economic value of manure
Uncover feed cost and margin opportunities rooted in feed variation
Calculate your exact nutrient removal
Benchmark your nutrition or manure results against the Rock River Laboratory database
Visualize and plan your fertilizer strategy
Assign an economic value to laboratory measures and predict how management changes can affect the bottom line
The most extensive and flexible Visualizer app available from Rock River Laboratory, Data Explorer empowers users to analyze trends in feeds or crops and can uncover previously unrecognized feed variation that impacts the farm's bottom line. Easily traverse all of your nutrition data and dice it any way you want with the help of this interactive and intuitive tool.
Data Explorer sifts through many different variables, yields visual graphics, and summarizes data in tables to help drive effective decisions. This new data analysis tool helps identify trends and uncover insights that can lead to time and money savings. Learn more about how to put this tool to work for you by
reading and downloading the information sheet
.
Customers with adequate, clean data can utilize Data Explorer by logging into the
customer portal
and entering the Visualizer Apps area of the menu. A username and password are required to access your data within the Data Explorer application.
---
Contact us to learn more:
office@rockriverlab.com | 920-261-0446