Data Distillations
Data Distillations is published quarterly and utilizes Rock River Laboratory's vast database of feedstuff information from across the United States, along with our expert team, to share important insights.
In an effort to help the agriculture industry stay in front of challenges and opportunities with available feedstuffs, relevant graphs will be shared, along with what our team members are gleaning based on those graphs. Prepare for and remedy the ups and downs of feedstuffs components you utilize in your rations with the help of another set of eyes. Sign up to receive alerts when new Data Distillations are available each quarter by completing the thirty-second form at the bottom of this page or click the link here.

We've spent over 40 years equipping the agriculture industry with the tools and answers needed to make decisions for successful outcomes. Our team is happy to help provide additional insights to our accurate analysis of your customer's feedstuffs. Give us a call or send us an e-mail today to learn more.
---
March 23rd, 2021 Insights
Author: Cliff Ocker
Energy out the A$$
Starch digestibility is often watched quite closely in our diets today as we formulate rations and work to feed more efficiently. We continue to learn more about starch digestibility, yet at times still struggle with the results. The 2020 crop year has been variable across the country as we look at data within the Rock River Laboratory database. We also see that, while typically fecal starch by this time of year has dropped below two or three percent, this year, we still are bumping against five percent fecal starch, as shown in Figure 1.
Figure 1: Fecal Starch Over Time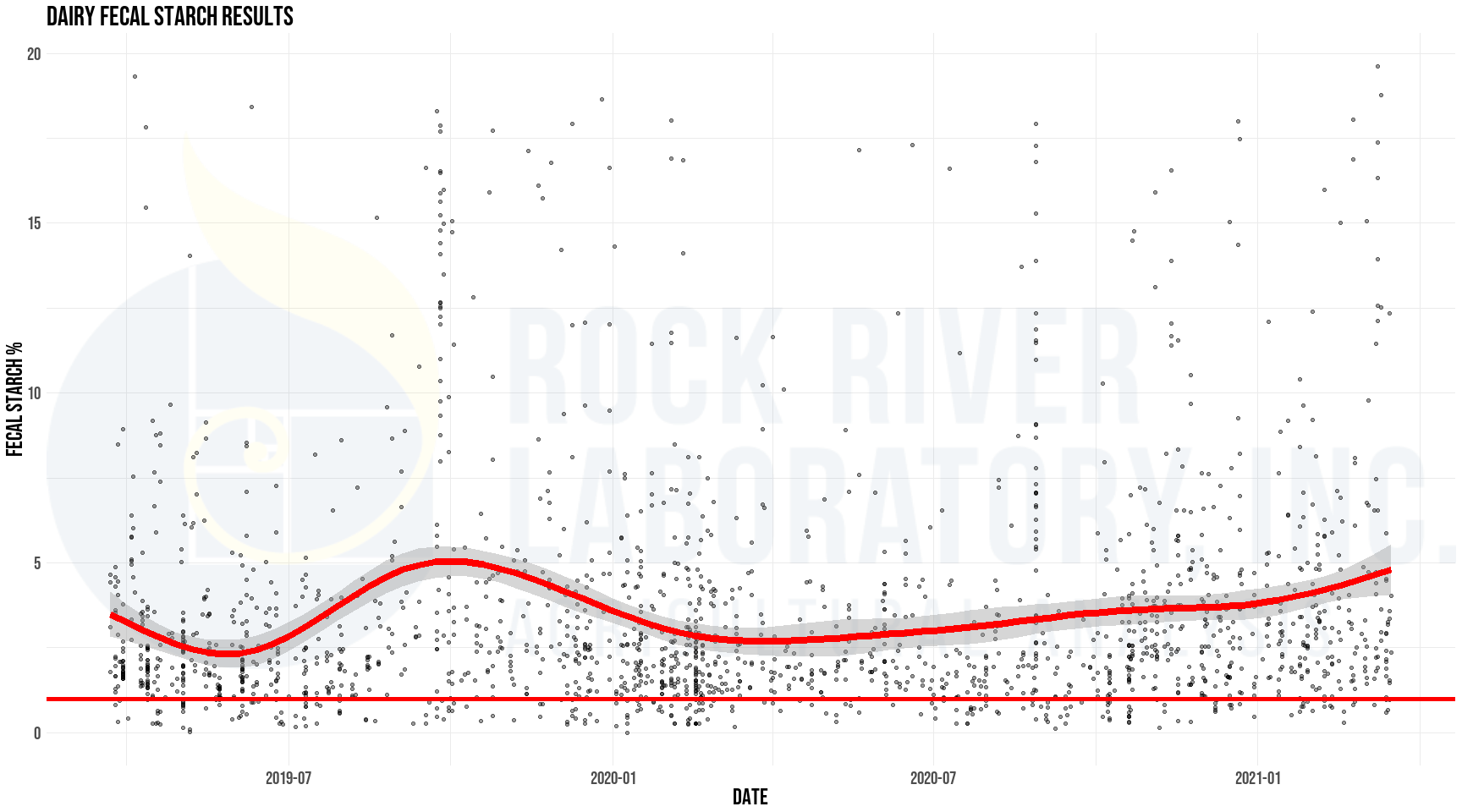 Dr. Jim Ferguson, University of Pennsylvania, suggests that every point of starch over three percent in fecal samples for high producing cows equates to .72 pounds of milk. This would suggest that, on average, there is about a pound and a half of missed opportunity milk that is still adding costs to the diet. Fecal starch is a quick and easy way to see how well the cows are utilizing the starch being fed. Making adjustments to the diet when and where needed can help efficiency. Figure 2 shows an example Fecal Starch report. Of note: Rock River Laboratory can provide this report for dairy, beef and calves.
Figure 2: Sample Dairy Fecal Starch Report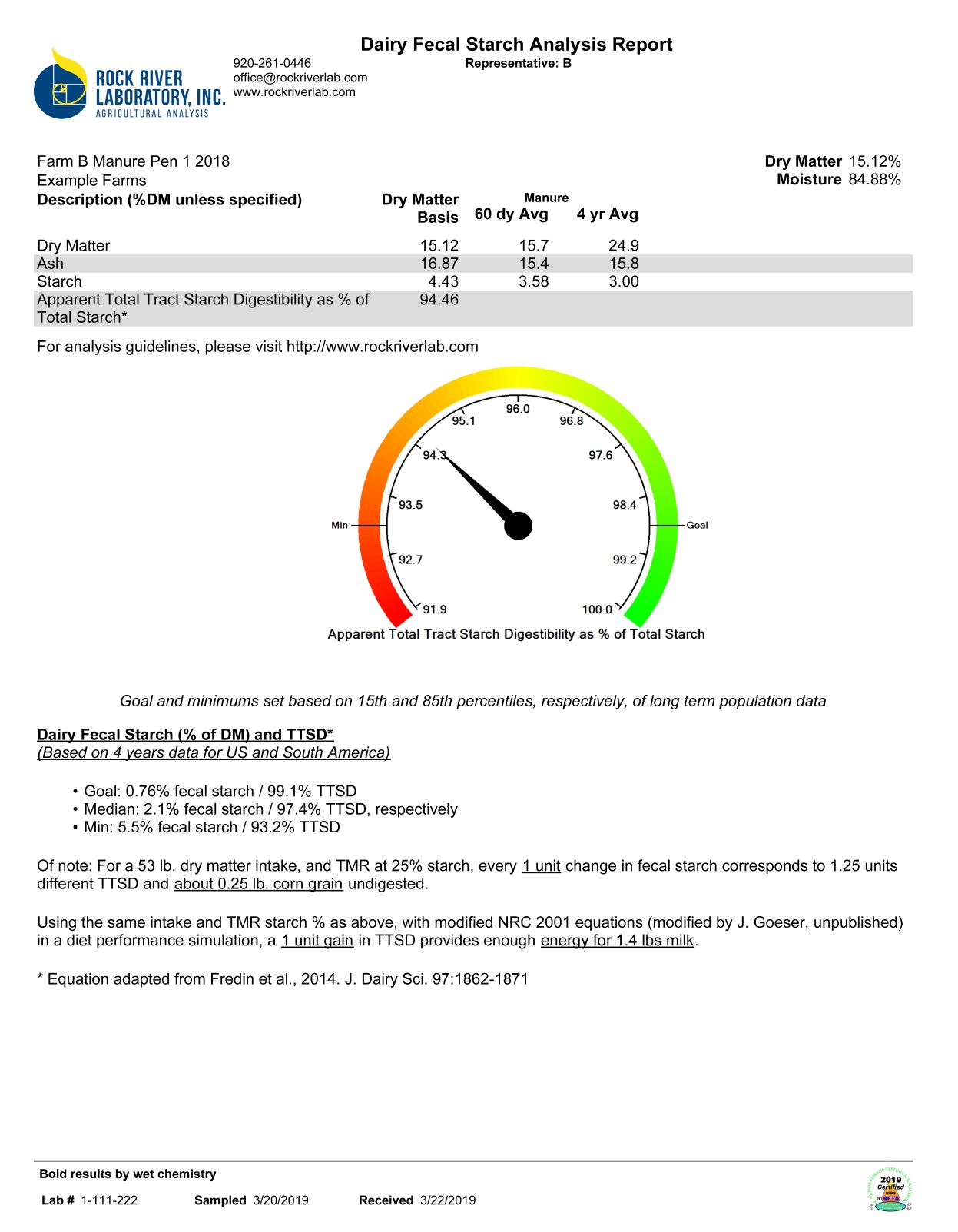 Rock River Laboratory continues to find innovative ways to look at data and visualize trends and variation. It is interesting to look at the 0-hour time point for corn silage for the 2020 crop year versus the 2019 crop year across different regions of the country – as noted in Figure 3 and 4. This measure represents very rapidly digestible starch, that goes into solution with water. Think of it like starting fluid for a diesel engine. In the 2019 crop, we saw this rapid starch digestibility measure move from 20 percent to 30 percent for much of the country, over the course of a year. Meanwhile, the 2020 crop appears to be more variable by region. While there may be a number of reasons for this, it may help explain milk production and/or components by region as well.
Figure 3: 2019 Corn Silage '0' hour Starch Digestibility
isSD0= in situ starch digestibility at '0' hour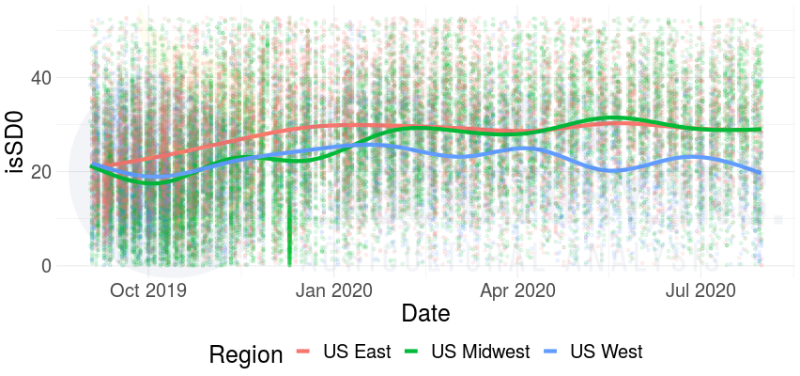 Figure 4: 2020 Corn Silage '0' hour Starch Digestibility
isSD0= in situ starch digestibility at '0' hour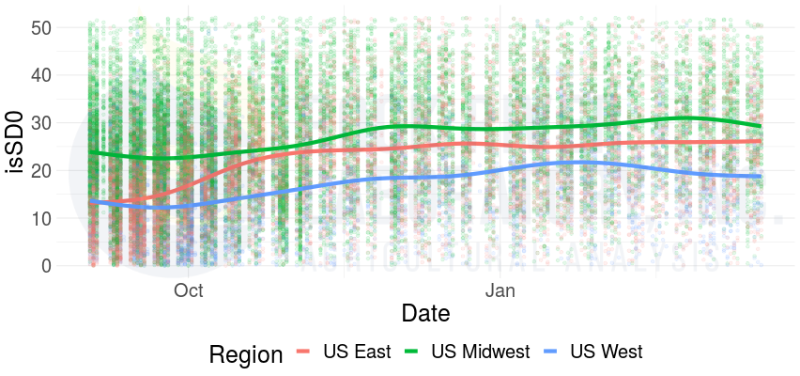 Taking time to gather this type of information on your dairies can help explain the effects you're seeing, and allow for greater feed efficiency to help improve income over feed costs (IOFC) for your producers.
---
January 21st, 2021 Insights
Author: John Goeser, PhD, PAS
The corn silage heartbeat
Your corn silage has a heartbeat. This may seem a bit odd at first, but every year corn silage comes alive with more energy - much like your heartbeat provides your body with the oxygen and energy needed to get the job done. In the case of corn silage, the heartbeat stems from starch.
Starch in corn silage comes from the ear and grain, providing 50 percent or more of the total digestible nutrient content in every ton of silage. Starch content varies from year to year, in alignment with grain yield. In Figure 1, recognize that producers are raising greater grain yields in the last couple of years - relative to five years ago.
Figure 1: Corn silage starch content, as a percent of dry matter, for samples submitted to Rock River Laboratory over the past five years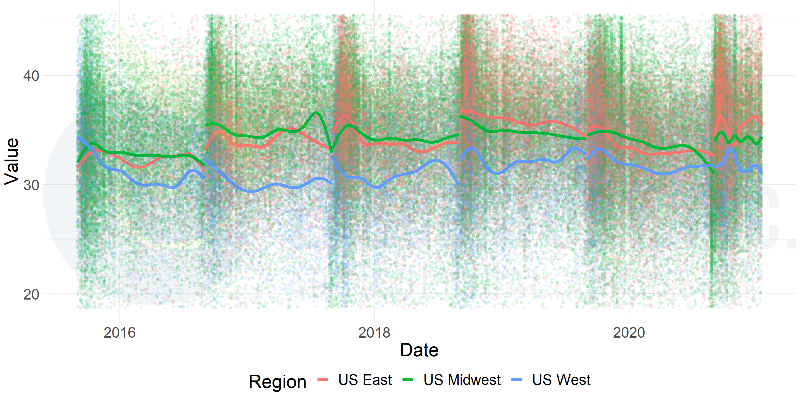 Starch and fiber each typically make up around 30 to 40 percent of the dry matter in corn, however, the energy coming from starch is greater due to starch being twice as digestible as fiber. With that being said, starch digestibility greatly fluctuates. Therein lies the corn silage heartbeat. Just like your heartbeat increases blood flow and pressure, starch digestibility and rumen digestible starch content in silage increases in a rhythmic pattern. The silage heartbeat ties to new crop silage, as detailed in Figure 2. Notice how the in situ rumen starch digestibility drops on an annual basis, as new corn silage starts to be fed. This dropoff represents a lower energy crop initially, but one that improves as the silage ferments and the starch becomes more digestible.
Figure 2: Corn silage rumen starch digestibility, as a percent of dry matter, for samples submitted to Rock River Laboratory over the past five years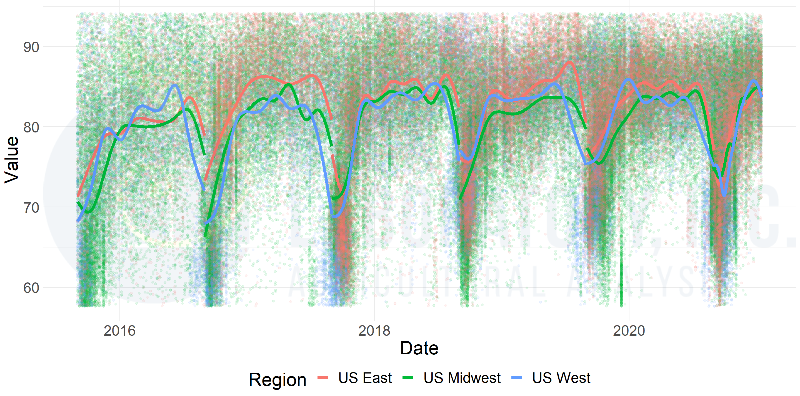 An alternative way to think about the silage heartbeat is to combine starch content and digestibility into rumen degradable starch, as a percent of dry matter. Nutritionists and producers are now looking at rumen degradable starch on a dietary basis, but we can also look at this on a silage-only basis. Figure 3 details rumen degradable starch in silage over the past five years. We can see that rumen degradable starch is low each year after harvest but improves with several months in the silo. This drop means that a 30 percent starch silage may only feed like a 20 or 25 percent starch silage, as the rumen is not able to capture the full starch value until the silage fully ferments and the starch softens.
Figure 3: Corn silage rumen degradable starch (RDS) content, as a percent of dry matter, for samples submitted to Rock River Laboratory over the past five years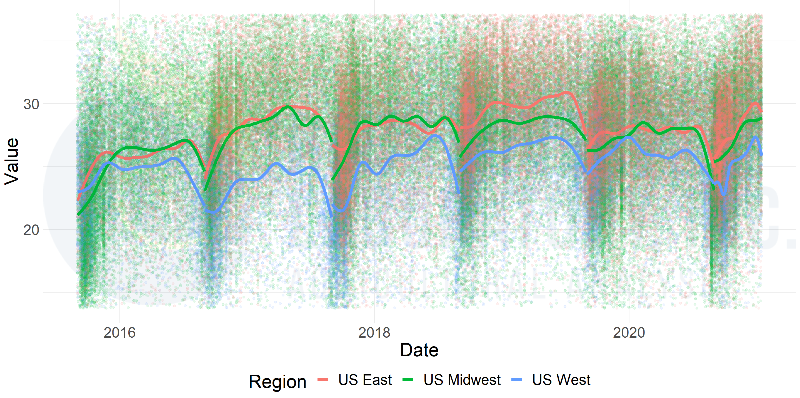 Check your silage's heartbeat and ensure you account for the factors discussed, in your ration.
---
October 28, 2020 Insights
Author: Cliff Ocker and John Goeser, PhD, PAS
Fiber digestion at 12 hours in the rumen
Fiber digestibility has been used for quite some time to help evaluate quality and milk potential from a given forage. Initially, our industry started with a 48-hour in vitro rumen digestion estimate. This time point approximated forage rumen retention time for a ruminant at maintenance intake level (i.e. a dry cow). With today's high producing cows consuming over 60 pounds of dry matter per day, we recognize that forage may only be within the rumen for 24 hours. Hence, we use multiple time points in our dairy ration models to help imitate fiber digestion and better predict cow performance. Looking at the 30, 120 and 240-hour Neutral Detergent Fiber Digestibility (NDFD) values has helped predict performance, and rank forages in terms of quality.
As we continue to learn, progress and the importance of multiple observations over time in the rumen (to characterize fiber), we are now looking at shorter time points to help improve predicted forage performance potential. Recently, we have added a 12-hour NDFD to our Comprehensive Nutrition Analysis for all forage types. This could be a valuable next step to better predict animal performance from forage and to rank forages based on fiber digestibility.
The 12-hour time point adds rumen fiber digestion to our multi-time point assessment to help characterize a forage. With this information, we can anchor the fiber digestion curve and differentiate slow versus fast-digesting fiber. This is visible in Figure 1. Note how the 12-hour NDFD observation adds to the curvature of the trendline, which may help us understand the fast-digesting fiber degradation rate.
Overall, increased rumen fiber digestion speed, as well as extent, can contribute to a more stable rumen environment and means more energy to the cow via increased acetate and butyrate production. This additional energy can be used for increased production, improved components, or body condition.
Figure 1: An average fiber digestion curve for corn silage at Rock River Laboratory, Inc.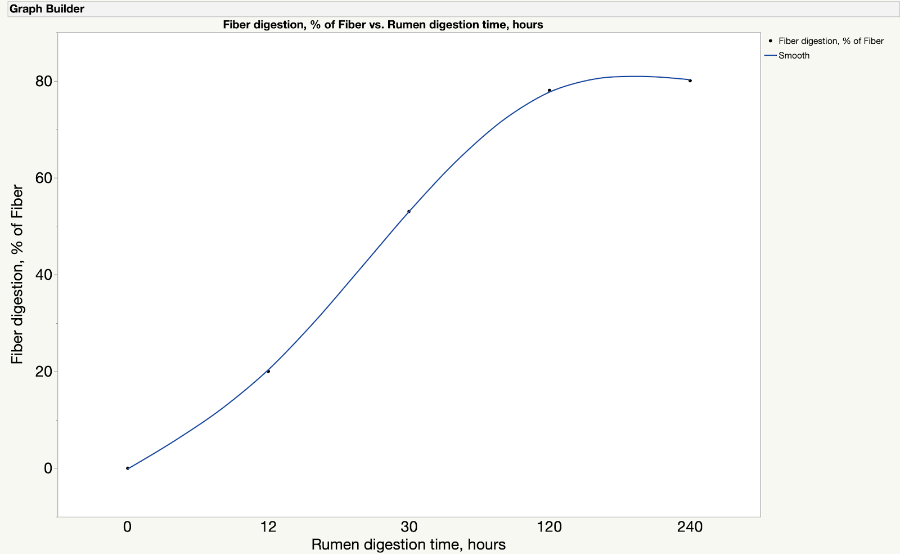 ---
July 22, 2020 Insights
Author: John Goeser, PhD, PAS
Milk fat depression? Feed trends of interest
With the summer heat comes inevitable nutrition technical support and troubleshooting questions centering on alleviating milk fat depression. This year proves no different, with some herds suffering from unexplainable dips in milk fat production. Professor Kevin Harvatine and colleagues have recently documented seasonal rhythms to milk protein and fat production and shown that milk protein and fat trend down through the summer months. Leaning on previous learning from Professor Adam Lock and my own past experience, I've found meaningful trends relating starch fermentability and the fatty acid profile to consider in these milk fat depression troubleshooting cases:
Corn silage, grain starch digestibility, and Total Mixed Ration (TMR) implications
In many cases, Professor Lock stresses focusing on starch digestibility and diet fermentability rather than fine-tuning other diet aspects. Reason being, starch is often balanced to maintain optimal milk production. However, slight increases in starch digestibility with ongoing corn silage or grain ensiling can tip the rumen and slow down fatty acid biohydrogenation.
Figures 1 and 2 detail corn silage rumen starch digestibility (7-hour in situ rumen starch digestion, isSD7, percent of starch) and corn grain rumen degradable starch load (starch content x 7h isSD). In both figures, recognize that starch availability and impact in the rumen has increased, and will likely continue to do so. While these individual feed analyses can prove valuable, it is often more sensible to start with a TMR sample and assess diet starch digestibility as well as diet fatty acid profile and load.
Figure 1: Corn silage rumen starch digestibility (7-hour, percent of starch) for samples submitted to Rock River Laboratory in the US since Aug 1, 2019.

Figure 2: Corn grain rumen digestible starch load (RDS = 7-hour starch digestibility x starch content; percent of DM) for samples submitted to Rock River Laboratory in the US since Aug 1, 2019.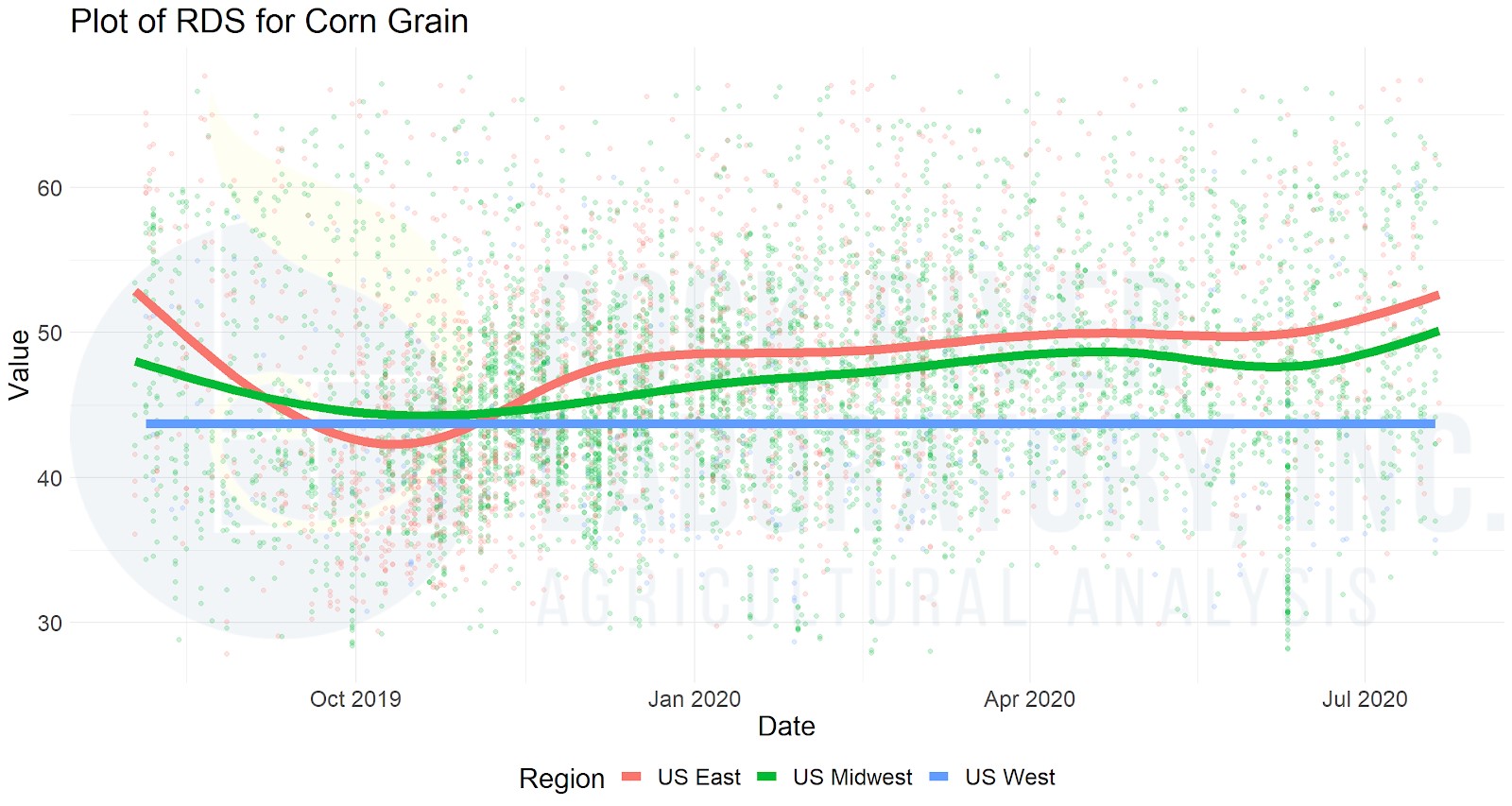 Corn silage fatty acid profile
Corn silage doesn't only contribute fermentable starch, but it can also contribute substantial fatty acid load to the diet at higher feeding rates. C18:2 and C18:3 fatty acids contribute to total poly-unsaturated fatty acid (PUFA) load in diets, which in a TMR is recognized to interact with other nutrition factors, such as diet starch fermentability. In cases where rumen fatty acid biohydrogenation slows down (due to rumen fermentable starch among other potential factors), the PUFA level may overwhelm the rumen microorganisms' ability to biohydrogenate these fatty acids. In such cases, the detrimental t10,c12-C18:2 fatty acid, that can decimate milk fat production, may arise.
In troubleshooting diet PUFA load, some are looking closely at corn silage levels. To better understand potential relationships, we consulted with Professor Lock. He pointed out that Linolenic acid (C18:3) may have a great association with fiber than grain, as chlorophyll is richer in this poly-unsaturated fatty acid.
Interestingly, follow-up plots comparing corn silage fiber content to Linolenic acid showed an apparent relationship between the fiber and C18:3 - in agreement with Professor Lock's theory on corn silage (Figure 3). If your silage is lower in starch content, it may also be carrying more C18:3 than higher starch silage, and this should be accounted for. The corn silage fatty acid profile can now be assessed as part of routine NIR forage analyses.
Figure 3: Corn silage linolenic acid (percent total fatty acid) concentration versus fiber (aNDF, percent DM) for samples analyzed by Rock River Laboratory since January 1, 2020.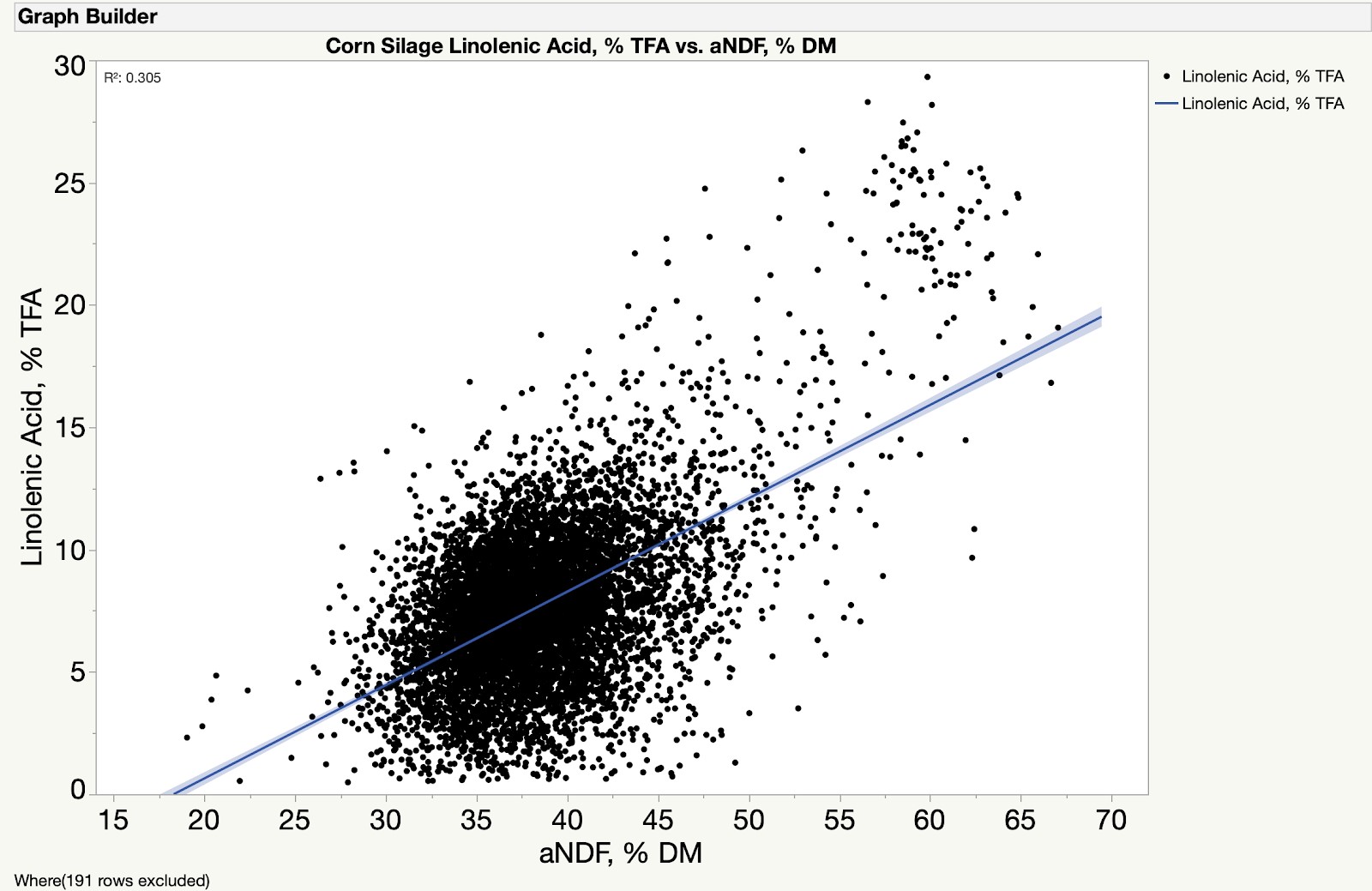 ---